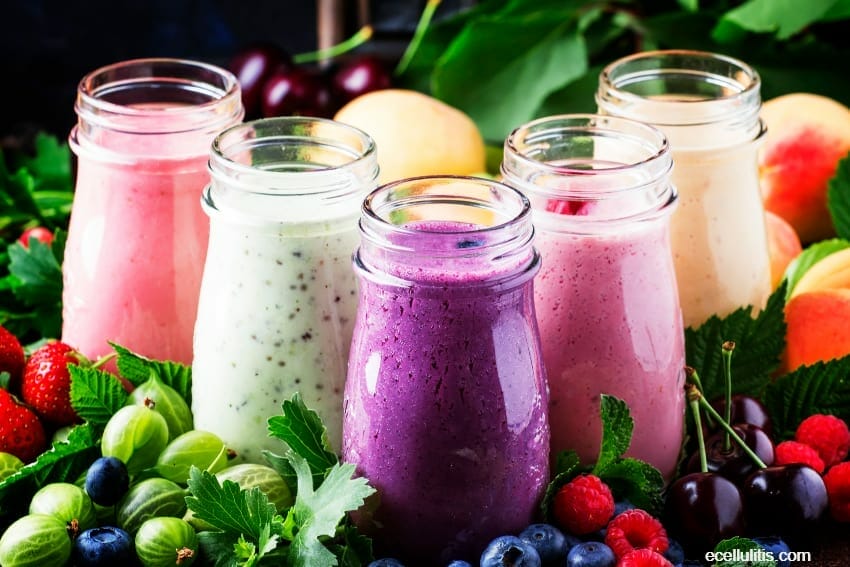 If you are new to making healthy smoothies, do not worry, we all were new at one point.
In a word, smoothie (or smoothy) is a cold beverage, blended with jug blender, hand blender or made in a shaker, and made from fresh fruits (may include chocolate and peanut butter). One can also use crushed ice, honey, frozen fruit, syrup, ice ingredients, milk, yogurt, or ice cream as well.
The benefits of smoothies are numerous; they are a great way to incorporate healthy nutrients. Due to the fruits, smoothies are gold minds for vitamins, minerals, antioxidants, and fiber. These "superfood" drinks are a great and quick alternative to fast foods; they are immunity boosters, they reduce the risk of overeating, they substitute unhealthy sweets, and they are easy-to-make and cost-effective.
Green smoothies are even better due to the benefits of raw vegetables. Greens are an excellent source of proteins, calcium, potassium, iron, zinc, vitamin C, K, A and B-complex vitamins, fiber and fatty acids. Many diets include green smoothies because they help with digestion, reduce food cravings, and help with natural weight loss.
Look at the easiest recipes for healthy green smoothies.
Smoothie for Immune System – Mango and Ginger
What do you need to make this delicious booster?
1 cup celery
1 cup parsley, fresh
2 cups of water
One cucumber, peeled
1-inch ginger, fresh
3 cups mango
One lemon, peeled
Blend celery, parsley, and water until smooth. Add the remaining fruits (use at least one frozen fruit to make your smoothie cold) and blend again.
It's a piece of cake, right? Share it with your special one.
Why Mango?
Mangos are great for eye health and skin. This fruit is an excellent source of vitamin A and C.
Why Ginger?
Ginger is suitable for sensitive stomach and sinuses.
Smoothie for Energy and Detoxification– Cranberries and Kale
What you need is:
2 cups kale, fresh
1 cup of water
1 cup cranberries
2 oranges, peeled
Two bananas
Put kale in a blender and add water. Blend it, add the remaining fruit, and blend again. If you want it cold, add one frozen fruit. You can also keep the white part of orange pith.
Why Cranberries?
Get the daily dose of vitamin C and antioxidants with cranberries.
Why Kale?
Kale is low in calories, high in fiber, iron, calcium, vitamin A, vitamin C, and has no fat. Kale is one of the best detoxification foods.
Smoothie for Fighting Free Radical – Spinach and Cantaloupes
What you need is:
2 cups spinach, fresh
One mint leaf, fresh
1 cup water (optional)
2 cups ripe cantaloupe, rind removed
1/2 cup blueberries
One apple
1/2 lime, fresh squeezed
Put spinach, mint leaf, and ripe cantaloupe in the blender and blend it until smooth. Cantaloupes are high in water content, so you do not need additional liquid-base to this recipe. Add remaining fruits, one frozen, and blend again.
There you go! You have your great smoothie, that is an excellent meal replacement, especially breakfast.
Why Spinach?
Spinach prevents constipation; maintain blood sugar level, and aids in digestion. It is great for vision, skin, and immunity. Spinach is excellent for the nervous system and brain function.
Why Cantaloupe?
Loaded with vitamin A, C, K, and beta-carotene, the king of melons is an excellent help against daily stress and nervousness, as well as a great promoter of cardiovascular health.
Why Blueberries?
Blueberries are fruits highest in antioxidants.
Smoothie for Breakfast – Chocolate and Cherry
For a great start of the day, you need:
2 cups spinach, fresh
2 cups almond milk, unsweetened
2 cups cherries, pitted
Two bananas
1 teaspoon cinnamon
3 tablespoons cacao powder
Blend spinach and almond milk until smooth and add the remaining ingredients, then blend again. Add one frozen fruit for a cold smoothie. You can also use chocolate flavored protein powder for a protein boost. This is one of the best smoothies for pure satisfaction, especially in the morning. It is a perfect way to start your day!
Why Almond milk?
Almond milk, an alternative to cow's milk, is diet friendly and vitamin-rich gift from nature. It is high in vitamin E and calcium, which is very important for skin and bone health.
Why Cherries?
Cherries are a healthy substitute for sweets. Loaded with antioxidants and low in calories, cherries are great for weight loss and pain relief.
Why Cacao powder?
Cacao is a guilt-free treat! Cacao is filled with iron, calcium, zinc, potassium, dietary fiber, and antioxidants. Cacao releases feel-good hormones!
Smoothie for Daily Dose of Antioxidants – Strawberry, Banana, Blueberry
The ingredients you need are:
2 cups spinach, fresh
3/4 cup water
3/4 cup orange juice, fresh squeezed
1 cup strawberries
1 cup blueberries
Two bananas
Blend spinach, orange juice, and water. Add remaining fruits and blend again. Remember, one frozen fruit for a cold smoothie. You can also replace oranges with tangerines, lime, or grapefruit. This smoothie is great for the kids and family picnics.
Why Strawberries?
Being rich in antioxidants, strawberries are great for eyes, bones, hair, nails, weight loss, and proper brain function.
Why Bananas?
Bananas are perfect for digestion. On the other hand, bananas are mood boosters.
Smoothie for your Hair, Nails and Skin – Sweet Pear
What you need is:
2 cups spinach, fresh
2 cups almond milk, unsweetened
Four pears
One banana
1 teaspoon cinnamon
Blend almond milk and spinach until smooth, and add remaining ingredients, then blend again. Top with cinnamon.
Why Pears?
Pears are packed with vitamin A and C, and fiber and folic acid. Pears are perfect for keeping you fuller longer. Besides, pears are an excellent support to your hair health, nails, and skin.
Smoothie for Sugar Satisfaction – Peach and Coconut Water
You will need:
2 cups spinach, fresh
1 cup of coconut water
2 cups grapes
Two peaches
Blend spinach and coconut water until smooth. You can replace coconut water with water. Add remaining fruits and blend again. One frozen fruit for a cold smoothie. If you wish, add bananas, for more potassium.
Why Peaches?
Peaches are low in calories and perfect for maintaining your healthy weight. Peaches are also high in vitamin C, and A.
Why Grapes?
Grapes have numerous benefits; they treat constipation, indigestion, kidney disorders. Grapes are rich sources of vitamin A, C and B6. They contain calcium, potassium, iron, magnesium, selenium, and phosphorus.
Why Coconut water?
Coconut water is a naturally refreshing beverage, rich in electrolytes, potassium, calcium, magnesium, sodium, vitamin C, and dietary fiber.
Coconut water is beneficial for weight loss and skin health.
Let's be honest – people do not consume enough fruits and vegetables each day, so the smoothies are an excellent opportunity to incorporate these important nutrients. Also, green smoothies are perfect for people of all ages, especially for the kids who are picky eaters.
Reference:
Jensen, B. (1988). Foods That Heal. Avery Trade.
Lee, W.H. (1982). The Book of Raw Fruit, Vegetable Juices, and Drinks.  Keats Pub.
Pistoia, M., Corbetta, F., Bianchini, F., Mancinelli, A. & Mancinelli, I. (1985). The Complete Book of Fruits and Vegetables.  Crown Publishers.
Walker, N. W. (2003). Raw Vegetable Juices: What's Missing in Your Body.  Health Research.

Images credit: 123RF Stock Photo

Last article update: 8/8/2019