Summer offers an abundance of healthy fruits and vegetables, those light snacks and refreshing desserts we all love. Summer is also the time when one should use those fantastic benefits of seasonal food to revive the body and organism from within, and in turn, increase the energy level and overall well-being. Anything that will keep you feeling light and healthier is a must in summer.
However, it is not rare that in summer, we often experience headaches, skin blemishes, moodiness and feelings of general fatigue. The main reason may be our weak metabolism; thus the best way to rejuvenate the body is by using your favorite fruits and vegetables for detoxification. As we all know, detoxification is the process of eliminating toxic substances from the body, and cleansing your body will bring stronger metabolism and immunity system.
Below is the list of the best summer fruits and vegetables with the most powerful detoxifying properties.
1# Beetroots – Fight Infection with Red Veggies
Some foods can keep your metabolism working optimally by assisting detoxification of the body, and beetroots are the first on the list. These vegetables contain a unique mixture of natural chemicals and minerals that are very powerful in fighting against infection, and necessary for blood purifying and liver cleansing. Beets have a fantastic ability to boost the body's cellular intake of oxygen.
As a rich source of vitamins B3, B6, C and beta-carotene, and as a valuable source of iron, magnesium, zinc and calcium, beets promote optimal detoxification. The high amount of fiber in beets improves digestion and helps eliminate toxins and waste from the body.
Moreover, by stabilizing acid-alkaline balance (pH), beets are mandatory for healthy detoxification.
#2 Apples – Stop Sugar Cravings, Retain Hydration and Detoxify Your Body
As one of the most popular fruits, apples are full of wonderful nutrients. All of the substances present in apples are important for detoxification process: fiber, vitamins, minerals and phytochemicals such as D-Glucarate, flavonoids and terpenoids. In particular, Phlorizidin (phlorizin) helps stimulate bile production, and in turn, helps with detoxification (the liver gets rid of some toxins through the bile).
Another important compound in apples is soluble fiber pectin, which helps detox metals and food additives from the body. Also, apples help suppress sugar cravings, thus help reduce your appetite and retain hydration. All of these actions are also very important for the detoxification of the body.
3# Sea vegetables – Strengthen Your Body with Powerful Antioxidants
Seaweeds, amazing sources of antioxidants and essential minerals, are very powerful body cleansers. Antioxidants in seaweed help to alkalize the blood and strengthen the digestive tract. The compound in seaweeds called algin absorbs toxins from the digestive tract. Moreover, seaweeds contain almost all the minerals found in the ocean – the same important minerals that are found in human blood, which makes them even more important for both detoxification and healthy nutrition.
One of the greatest seaweed detoxifiers is dulse, a type of seaweed that is often eaten dried. Dulse helps improve kidney health by flushing out excess sodium. It is also a rich source of vitamin B therefore, excellent for water retention and electrolyte balance.
#4 Avocados – Superfood for Healthy Nutrition
Many nutritionists and experts consider avocado a superfood due to many health properties they have. For instance, avocados contain glutathione, a nutrient that is known to block 30 different carcinogens. Moreover, this nutrient is responsible for helping the liver clear out synthetic chemicals from the body. It is also known that avocados lower cholesterol and dilate blood vessels; thus they are very important for healthy nutrition, especially for elderly people.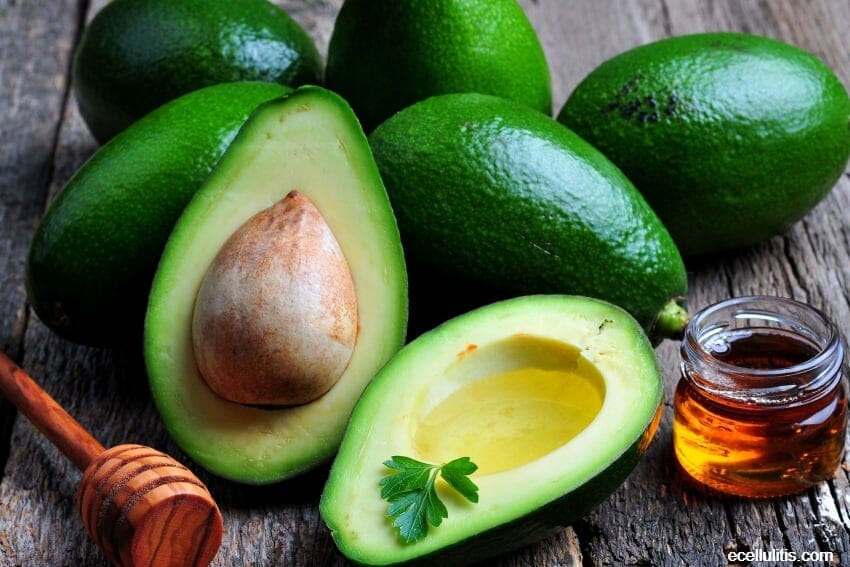 One research confirmed that elderly people who had high levels of glutathione were healthier and decreased the risk of suffering from arthritis.
#5 Lemons – The Most Powerful Detoxifier That Will Enhance Your Metabolism
Lemons stimulate the release of enzymes that help convert toxins into a water-soluble form. Once converted, toxins are easier removed from the body. Lemon water is alkaline-forming, which means it helps to balance out the acidity of foods we eat, especially if we are drinking it in the morning. In a word, lemons are great liver detoxifiers.
Due to the high amount of vitamin C, that is needed to make glutathione, the negative effects of toxic chemical in the body are reduced greatly. Vitamin C also fights the effects of pollution and cell damage. Fresh lemon juice is excellent for one more reason – it contains more than 20 anti-cancer compounds.
#6 Broccoli Sprouts – Veggies for Amazing Health Benefits
As very powerful vegetables, broccoli sprouts contain important phytochemicals. They are released when chopped, chewed, fermented, cooked or digested, and when released they break down into sulforaphanes, indole-3-carbinol and D-glucarate. These compounds are necessary for detoxification and have a particular purpose.
In comparison to regular broccoli, broccoli sprouts have 20 times more sulforaphane thus bring more health benefits.
#7 Dandelions – Essential Nutrients Necessary for Detoxification
Rich in essential nutrients, dandelions are a powerful antioxidant. Rich in minerals and phytonutrients, dandelions support cleansing of the digestive tract and help the liver in detoxification.
Dandelion leaves are the most common food we use in salads. However, dandelion tea also promotes detoxification properties. Dandelion greens promote the loss of water from the body through urination and their diuretic effects make them very helpful in lowering blood pressure.
Dandelion roots contain a bitter substance called taraxacin that stimulates digestion and promotes the flow of bile from the liver and gallbladder. Moreover, dandelion roots contain choline, liver stimulant, that makes colon cleansing and detoxification of the body easier and healthier.
#8 Watermelon – Sweet Dessert with Extraordinary Health Benefits
On picnic or beaches, watermelons are favorite summer fruits; however, they are also powerful detoxification fruits.
Watermelon helps the body by flushing out toxins all because of the organic compound citrulline, an amino acid. This amino acid has been shown to help the liver and kidneys get rid of ammonia (a by-product of the proteins that is quite damaging to our cells).
More about watermelons, you can learn here.
#9 Pineapple – Summer Snack with High Amounts of Natural Sugar
Another delicious summer snack, pineapples are rich in active enzymes that help remove impurities from the body, in particular from lungs.
One can add them to smoothies and make a very powerful detoxifying meal; moreover, due to high amounts of natural sugars, pineapples are also excellent for a sugar craving. As for detoxification, pineapples benefit the small intestine by breaking down waste and reducing intestinal inflammation by regulating the processes of the glandular systems.
If you are not sure how to include some of these foods in your daily nutrition, smoothies are one of the best ways you can start with.
You can replace a meal with a smoothie filled with your favorite fruits and powerful green veggies, or you can make a smoothie to be your mid-morning snack.

Images by: 123 RF Photo Stock

Last article update: 6/18/2019