Everybody loves grapes. Or at least, some form of grapes…. fresh, wine, vinegar, raisins, jam, grape juice, jelly, grape seed extract, grape seed oil. And when you learn more about grape health benefits, you'll love them even more.
Origins of grapes
Grapes grow wild since prehistoric times. However, viticulture, or grape cultivation, is as old as civilization, dating back up to 8000 years ago. There is evidence of grape growing around 6500 B.C. in what are now Georgia, Azerbaijan and Armenia. Throughout long and abundant history, grapes and wine played an important role in numerous historical events and social rituals.
Grapes grow wild on all continents, except Antarctica. However, travel and exploration led to transport of native grapes across the world. European travelers, exploring the globe, brought "old World" grapes to North America as early as the 17th century. In US, grapes found a lasting home in the central valley of California due to favorable climate and a relative absence of grape-preying insects.
Grapes are one of the world's most commonly produced fruit crops, with approximately 75 million tonnes produced each year. Top 10 countries in grape production are: China, Italy, USA, Spain, France, Turkey, India, Argentina, Chile and Iran with a total production of 55 million tonnes in Y2018 or 73% of world production.
All kinds of grapes
Grapes are round or oval berries that grow on a vine, with semi-translucent flesh encased by a smooth skin. They come in different colors: amber/yellow, red, green (some people call it white), black, blue-black, crimson, pink and purple.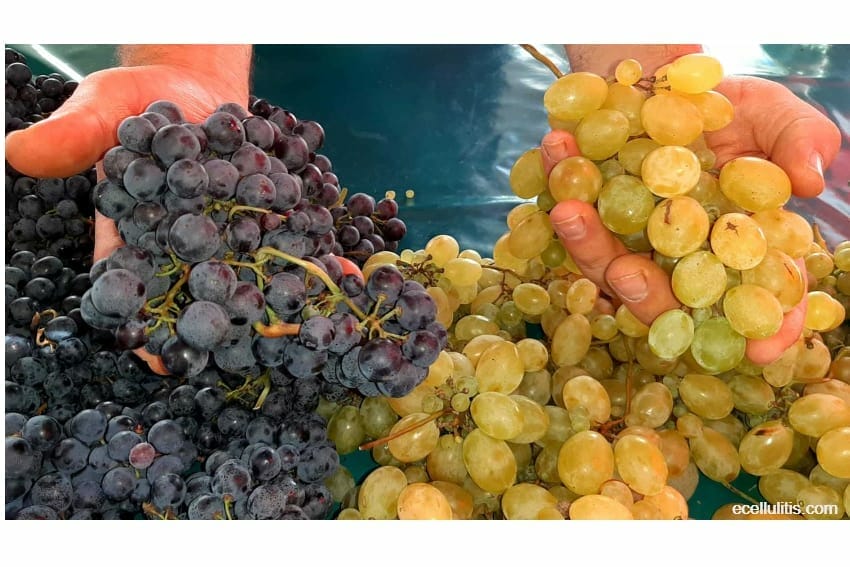 Some contain edible seeds, while others are seedless. Many mistakenly assume that seedless grapes have been genetically modified. However, seedless species of grapes are either result of natural mutations or withheld pollination or crossbreeding or grafting. There is no direct manipulation with grapes' genetic material in these methods.
Three major groups of grapes are table grapes (to eat them fresh or use in a recipe), wine grapes (for winemaking) and raisin grapes (to make dried fruit). Almost 50% of grapes are used to make wine, about 37% is consumed as fresh fruit and the rest is dried, consumed as grape juice or stored in the form of grape musts.
All three groups of grapes come from the same genus (Vitis) of the plant. However, there are about 60 different species of grapes and within there are literally thousands of grape varieties. Table grape varieties are most often larger and have relatively thin skin. Wine grapes are usually smaller in size with relatively thick skin that provides the wine with a richer aroma.
Raisins are made from dehydrating grapes either naturally (heat of the sun) or through a mechanical process (oven drying). Grape health benefits cannot be applied to raisins. Dehydration process reduces grapes' water content and nutrients and increases sugar and calories by four times.
How nutritional grapes really are?
In a word: immensely.
Grapes are amazing source of various phytonutrients (chemicals produced by plants). The list of grape health benefits grows longer each year. However, it is important to stress out that grapes' skins and seeds provide most grape health benefits.
One cup of grapes weighing around 151 grams (g) contains:
104 calories: 0.24 g of fat, 1.09 g of proteins, 27.33 g of carbohydrate, of which 23.37 g are sugars and 1.36 g of fiber
Vitamins K, C, B1, B2 and B6
Minerals: copper, potassium, manganese, phosphorus, iron, magnesium and calcium
Carotenoids (antioxidants): beta-carotene, lutein and zeaxanthin
Stilbenes: resveratrol being grapes' star nutrient (mostly found in the skins od red grapes)
Flavonoids: myricetin, quercetin and catechins being the most important one
Phenolic acids: caffeic, coumaric, ferulic and gallic and others
The truth about grape health benefits
Packed with overwhelming number of phytonutrients, grape health benefits are numerous. Areas of grape health benefits span from the immune, nervous, cardiovascular and gastrointestinal system to cancer prevention and longevity. Here is a closer look at grape health benefits.
1. Anti-inflammatory and antioxidant
Grapes contain significant antioxidant phytonutrients that range from conventional antioxidants like vitamin C, beta-carotene and manganese to unusual stilbenes like resveratrol.
Antioxidants are molecules that safely interact with free radicals. Free radicals are molecules responsible for disruption of cell membranes. Cellular damage usually triggers oxidative stress in our body. Grapes can help protect cell membranes from free radical damage and lower biomarkers of oxidative stress.
This interesting fruit may also lower our risk of excessive inflammation by reducing the activity level of many pro-inflammatory cytokines, such as interleukin 6, interleukin 1-beta and tumor necrosis factor-alpha.
2. Anticancer agents
Grapes are excellent anticancer agents due to aforementioned multiple anti-inflammatory and antioxidant properties. Resveratrol found in the skins of red grapes may protect cellular DNA by reducing chronic oxidative stress and chronic inflammation, key factors in cancer development.
According to some laboratory studies, resveratrol may be able to slow or prevent the growth of, in particular, breast, colon and prostate cancers. However, grapes may also help to limit reactions that initiate growth and development of leukemia and tumors in lymph, liver, stomach, skin.
Just in case you need a valid reason to pop a bottle, you should know that resveratrol remains in grapes even after they've undergone the fermentation process. This means drinking red wine in moderation is healthy. "Moderation" is the keyword since high intakes of alcohol on a regular basis are considered to be major cancer risk factor.
3. Cardiovascular benefits
Grape health benefits extend to cardiovascular system due to powerful antioxidant and anti-inflammatory properties. All cells in our blood, as well as blood vessel linings, need strong antioxidant support and protection from potential oxygen damage. Chronic inflammation in our cardiovascular system is also a primary concern for many types of cardiovascular disease.
Some grape compounds, such as resveratrol, may improve blood flow and protect the vascular system by reducing LDL or bad cholesterol level in our body. That means grapes could also help reduce the risk of atherosclerosis, hypertension and irregular heart rhythms.
One phenomenon associated with this topic is the so-called "French paradox". Despite eating fairly large amounts of saturated fat in their overall diet, French people enjoy long lives and healthy hearts. Reason? They also enjoy red wine on a daily basis.
Grapes have a high fiber and potassium content, both of which support heart health. If we want to preserve cardiovascular health, reduce the risk of stroke and improve blood pressure, we should increase potassium intake while decreasing sodium consumption.
4. Antidiabetic benefits
Grapes are diabetes-friendly food due to low glycemic index (GI), which ranges between 43-53.
A 2013 study published in the BMJ involved 187,382 participants and lasted for 24 years. The study showed "greater consumption of specific whole fruits, particularly blueberries, grapes, and apples, is significantly associated with a lower risk of type 2 diabetes, whereas increased consumption of fruit juices has the opposite association ".
Grape skins' high resveratrol content is responsible for successful carbohydrate metabolism management. It enables better blood sugar balance, better insulin regulation and, in general, better insulin sensitivity.
Poorly controlled diabetes may result in diabetic neuropathy (affecting nerve function) and retinopathy (affecting vision). Resveratrol, again, may help preventing these conditions.
Make sure you consume it fresh or in liquid form (wine) since processed grapes contain lots of added sugar and may produce the opposite effect.
5. Grapes are excellent weight watchers
This overachieving fruit is low-calorie, fat-free and water-filled food with a low glycemic index. And it also contains tonnes of antioxidant properties.
Diet high in antioxidants may help with weight maintenance and it can trigger certain reactions that may improve energy metabolism.
This low-calorie but nutrient-dense snack may help in activation of longevity genes through calorie-restricted diets. To put it simple, the more we can decrease our calorie intake while staying optimally nourished, the better our chances for a long and healthy life.
Grapes also contain fiber. Although 1 cup of grapes contains only 5% of your daily fiber needs, if combined with other high-fiber foods, grapes may improve colorectal regularity and reduce the risk of hemorrhoids and diverticulitis.
6. Brain health and longevity
Grapes' amazing phytonutrients may provide us with some important cognitive benefits and lower the risk of cognitive decline. It is important to reduce the risk of harmful oxidation, thus maintaining vascular health and function of the brain. Grape extracts may prevent excessive accumulation of reactive oxygen species (ROS) in the brain.
Several recent studies showed "significant improvement of verbal learning" in people who were drinking one or two cups of Concord grape juice every day for 12 weeks, compared to those who did not.
Miraculous resveratrol may play a role in longevity and provide grapes with anti-aging benefits. Resveratrol may optimize the performance of genes related to longevity.
Some additional grape health benefits:
Protection of skin cells from the effects of UV radiation
Acne management
Better bone mineralization and help in maintaining strong bones due to vitamin K and copper
Eye health and prevention of age-related conditions, such as macular degeneration, glaucoma, cataract and others due to antioxidants lutein and zeaxanthin and stilbene resveratrol.
How to get the most out of grapes?
You can slice them, you can dice them, but it is best to eat them fresh. Most grape jellies or spreads and juices have added sugars, meaning they are high in calories.
Cooking is not recommended since high temperatures can seriously damage grapes' phytonutrients. Due to probable pesticide residue, wash them thoroughly before eating.
Grapes are available year round. Fully ripened grapes, that taste the best, are plump, tight to the touch and wrinkle-free. Always store grapes in the refrigerator for 2 reasons:
they tend to spoil and ferment at room temperature
to keep vitamins C and B6 and carotenoids intact (those nutrient compounds tend to be highly susceptible to heat)
You can also freeze grapes, just make sure you pat them dry before freezing. Otherwise, you might end up with one large frozen fruit clump.
If possible, always eat grapes with the skin, since skin itself contains most of the nutrients. However, if you need them peeled, we suggest you use the American varieties (Concord) since their skin more easily pulls away from the pulp.
Handy tips for serving more grapes in your meals:
have a fruit cocktail with or without yogurt
add them in a chicken salad or mixed green salads
serve them with cheese
mix them in curries for a fruity punch
Are grapes totally safe?
Conventionally grown grapes carry high pesticide residue risk. According to US Environmental Working Group's Dirty Dozen list, in Y2020, grapes made it to the sixth place (after strawberries, spinach, kale, nectarines and apples). You can avoid this risk by buying organically grown grapes.
Grapes are rich with potassium. People with a heart condition and prescribed beta-blockers should be moderate in consuming grapes since beta-blockers increase potassium level in the blood.
Also, people with not fully functional kidneys should be alerted. It can be fatal if kidneys cannot remove excess potassium from the blood.
People using blood-thinning drugs should consult a doctor before consuming large quantities of grapes. Resveratrol in grapes may additionally increase the anticoagulant action of these drugs.
Wine, especially the red one, may have a lot of benefits, but it's still alcohol. Useful suggestion for women is to have one glass a day and for men two glasses a day.
If you prefer grape juice (over wine, seriously?), avoid products labeled as grape "drinks". Those are often high-sugar products and basically imitations with little actual grape juice.

Updated by Gordana Vrtodusic