We favor summer, that is the truth. Although we know all the advantages of other seasons, we favor summer, or at least, not to generalize, many of us do. In summer, we all feel full of energy, we are more creative, we are more positive, and we feel as if we are more "alive." In summer, we are all about going out and spending as much time as possible outdoors.
Summer is a synonym for parties, beaches, vacations, adventures, BBQs.  Brings out travelers, swimmers, adventurers. Summer provokes ideas, creativity, dreams, and imagination. OK, then, what can go wrong in the summer? The answer is unhealthy nutrition.
The truth is that we do not want to "waste time" in the kitchen, and we do not want to gain extra pounds, yet we still want to eat healthy. All the usual summer snack food lacks the vitamins, minerals, proteins, and fiber; everything a healthy meal should have. Moreover, for many of us, between-meal eating often replaces real meals.  This should not be a problem when you have a few tricks (recipes) up your sleeve.
During hot months, we should eat refreshing, easy-on-our-waistline, on-the-go snacks that can satisfy the daily intake of beneficial nutrients. Is it possible to find something like that?  The list below is comprised of 10 healthy and easy to make summer snacks that will keep your optimum health and your weight.
1. Frozen Fruit Bars
Image credit: depositphotos.com
Is there anything more refreshing than frozen fruit bars? Pick the fruit you want and make snacks that are full of antioxidants, and minerals, yet, low in calories. For the easiest recipe, you need:
One tablespoon of fresh lemon juice,
2 cups of any fruit you wish (strawberries, pineapple, oranges, cranberries, watermelon, melons, and bananas),
Wooden or plastic pop sticks, and
Paper cups or ice-pop molds.
First, you need to blend the fruit until smooth. Then, you add lemon juice and sugar. You can also add 1-2 tablespoons of water. Blend it again until it is well mixed. Pour it in paper cups or molds and insert sticks. Freeze it until it is solid.
There you go, you have a fabulous summer snack. Remember that instead of fruits, you can use fruit juice (but not fruit drinks).
2. Mini Tomatoes Salad
The best refreshing vegetables during the summer are tomatoes; on the other hand, they are a great source of vitamin C, potassium, and antioxidants. In a minute, make this fabulous salad with tomatoes and Mozzarella cheese. For the recipe, you will need:
One or two medium tomatoes,
1 ounce of fresh Mozzarella cheese,
Fresh basil leaves,
One teaspoon of olive oil or balsamic vinegar, and
Pepper and salt.
Slice the tomato, add Mozzarella, basil leaves and olive oil. Add salt and pepper to taste. Enjoy your meal for about 150 calories.
3. Cucumber Soup
Image credit: depositphotos.com
Why should you eat cucumbers? Cucumbers are an excellent source of vitamin A, C, D and B-complex vitamins, rich in minerals such as magnesium, potassium, and calcium, and since they are 95 % of water, which is excellent for hydration, cucumbers are low in calories and high in dietary fiber. Above all, cucumbers are great for digestion. For the soup, you will need:
1 cup of peeled, chopped cucumber,
½ cup of plain nonfat yogurt,
One tablespoon of chopped fresh mint,
Three ice cubes, and
Salt.
Mix cucumber, yogurt, and fresh mint in a bowl and pour it in a blender. Blend it with three ice cubes. Add salt to taste. Enjoy the soup that has only 75 calories.
4. Strawberry and Cheese Sandwich
For this quick snack, you will need:
One tablespoon of reduced-fat cream cheese,
¼ tablespoon of honey,
1/8 tablespoon of freshly grated orange zest,
Two slices of whole-wheat sandwich bread, and
Two medium strawberries (sliced).
Mix cream cheese, honey, and orange zest in a bowl and spread it over bread. Place the strawberries on one piece of bread and top it with other. In five minutes, make a meal that will satisfy 25% of the daily value of vitamin C and that has only 125 calories.
5. Watermelon and Feta Salad
Image credit: depositphotos.com
Watermelons are great due to the rich content of vitamins such as A, C, D and E, and minerals such as calcium, magnesium, potassium, manganese, and zinc. Watermelons are fat-free, and they are great for the heart, kidneys, and infections. For this snack, you will need:
2 cups of watermelon (diced),
1/4 cup of crumbled feta cheese, and
1 tablespoon of chopped dill (optional).
Mix all the ingredients in one small bowl and eat it immediately with your favorite person.  This delicious meal has only 95 calories.
6. Corn and Lime Snack
Image credit: depositphotos.com
Your friends suddenly appeared at your front door! Do not worry! A healthy snack such as this one can satisfy everybody. For the snack you need:
Four ears corn,
One lime,
A teaspoon of salt, and
A teaspoon of Chile powder.
Put corns in boiling water and cook it for 4 minutes. Put it on the plate and slice the lime into 4 quarters. Mix Chile powder and salt in a small bowl. Dip lime into the mixture and squeeze onto cooked corn. You can also grill the corn if you have more time. Enjoy the meal for only 63 calories.
7. Fresh Fruit
You cannot go wrong with fresh fruit. Strawberries, cherries, watermelon, peaches, plums, melons, whatever it is, just pick the one, or mix them together and enjoy a rich nutritional meal. Have your dose of vitamins and antioxidants and enjoy the summer.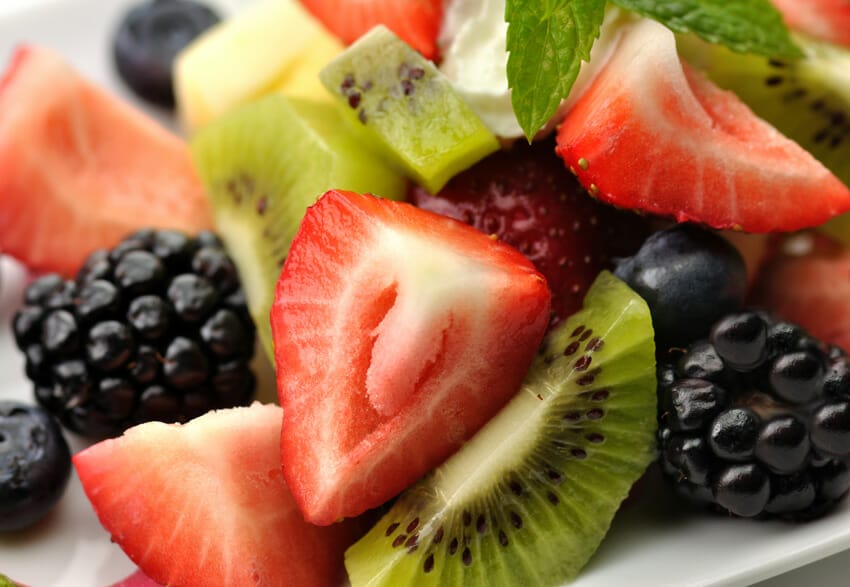 Image credit: depositphotos.com
Remember to have at least two servings of fruit every day – the more, the merrier.
8. Pistachios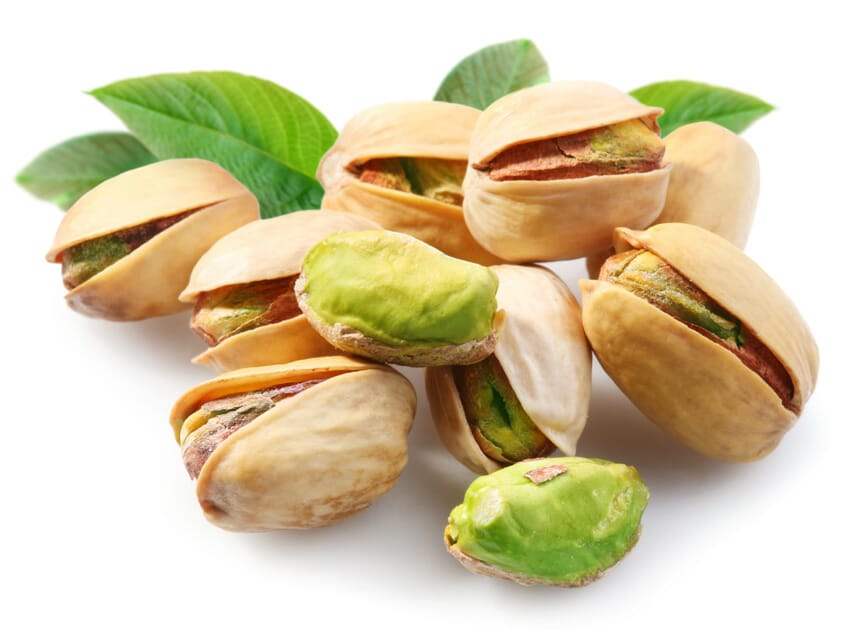 Image credit: depositphotos.com
Pistachios are great for heart health, eyes, and immune system in general. They are a great source of proteins and vitamin E and they will help you feel fuller for a longer. As a high energy food, 100 grams have 557 calories, so take it easy, but do not hesitate to eat them.
9. Dates
Image credit: depositphotos.com
Dates are perfect sweets; a great source of potassium, fiber, and vitamins such as vitamin A, C and B-complex, they will improve the digestive system. A serving of dates (5-6) has 120 calories.
Dates are a perfect on-the-go snack.
10. Fresh Vegetables and Humus
Image credit: depositphotos.com
Fresh vegetables are everywhere during summer. Do you need a quick recipe for hummus? Here is the one for you:
One 16 Oz can of chickpeas or garbanzo beans,
1/4 cup liquid from the can of chickpeas,
3-5 tablespoons lemon juice (depending on taste),
1 1/2 tablespoons tahini,
Two cloves garlic, crushed,
1/2 teaspoon salt, and
2 tablespoons olive oil.
Drain chickpeas and set aside liquid from the can. Put the remaining ingredients in blender or food processor and add the liquid from chickpeas. Blend it for 3-5 minutes on low until it is smooth. Then, place it in serving bowls, but remember to create a shallow well in the center of the hummus because you need to add olive oil (1-2 tablespoons) in it. You can garnish it with parsley. For spicier hummus, you can add red chili pepper.
This is an excellent dip for crunchy vegetables. Two tablespoons of hummus have 70 calories, and enough proteins and fiber. Veggies are loaded with fiber and have only 20 – 25 calories per cup.

Enjoy your summer in the healthiest way!

Reference:
Fleming, A.M. (2010). Smart School Time Recipes: The Breakfast, Snack, and Lunchbox Cookbook for Healthy Kids and Adults. Fleming Ink.
Perelman, D. (2012). The Smitten Kitchen Cookbook. Knopf.

Last article update: 6/10/2019