Who in their right mind doesn't want to look their youngest or their best? There is an age-old beauty secret that is guaranteed to help even the roughest skin soften up. Some secrets are meant to be told and this one has been hidden for too long. Women particularly spend thousands of dollars on beauty products that do nothing at all or very little.
Let's face it; some anti-aging products do not work on all the problem areas. This in itself is a problem for anyone who will not accept anything less than great looking skin. This incredible secret ingredient that everyone is raving about is Honey!
Believe it or not; honey is not only a natural antioxidant, but it has antimicrobial properties as well. It has the unique ability to retain and absorb moisture. For this reason alone, it is a valuable asset to cosmetic distributors around the world.
Honey works to prevent skin dryness by keeping the skin hydrated.
Honey Helps With Acne
Acne is a skin problem that affects both males and females. The body goes through some minor to intense hormonal changes which cause an imbalance in the body. These changes cause a chain reaction which is associated with producing acne.
Honey works in absorbing these impurities from the skin and cleansing the pores. Once the pores are clean the skin can breathe and revitalize itself.
The Chinese have known this for centuries and now the secret is out.
Honey is the Main Ingredient in Beauty and Personal Care Products
Honey is found in a wide range of beauty and personal care products on shelves worldwide. Products like lip balm, hand lotion and sunscreen contain honey, which is why most of these products work so well at smoothing rough skin and making old skin look new again.
The skin goes through various changes when the environment changes. In the summer months, the skin becomes dry and dehydrated and in the winter months, the skin becomes dry and chapped. To help keep the skin looking young and feeling smooth is honey-based products.
Simple DIY Honey Recipes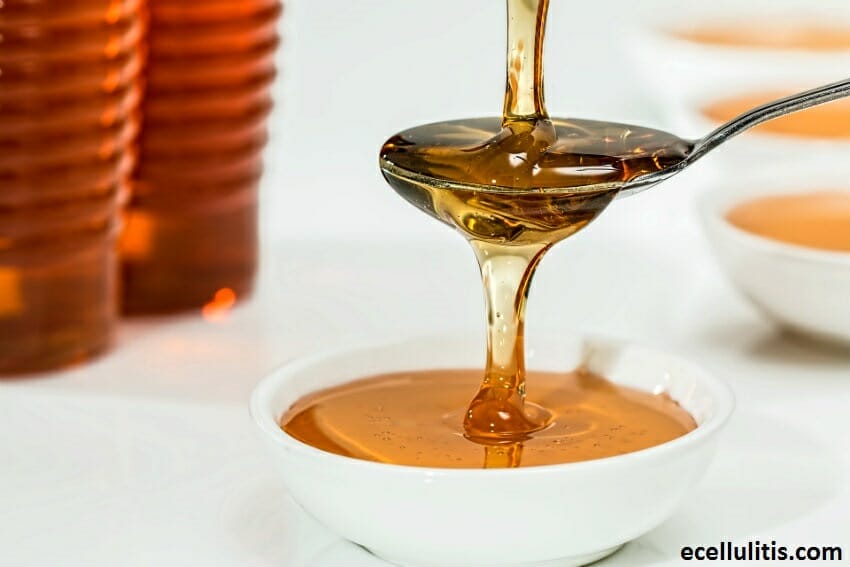 Anyone can create a few simple honey recipes at home. The items are easy to find and may already be lying around the kitchen. These recipes are cost-effective and contain natural ingredients. Here are a few ideas to start with:
Honey Bath
Hot Honey Bath is the easiest and most natural skincare solution to use. Just add ¼ cup of honey to the bathwater and come out with silky soft skin. It is excellent for treating dry skin.
Honey Skin Cleanser
Honey Skin Cleanser is made by using ¼ cup of honey, ½ cup of glycerin, and 1 tablespoon of soap. Use a gentle soft sponge to apply the mixture to the face. Let sit for a few minutes and sponge away the residue. Gently rinse the skin with warm water and lightly pat dry.
Honey also heals minor cuts, scrapes and burns. Just apply to the affected area to help speed up the healing process. The benefits of using honey in everyday skincare are cost-effective and beneficial for maintaining healthy and great looking skin.
Honey is naturally safe to use and inexpensive. Beauty product manufactures charges hundreds of dollars for their beauty supplies. However, homemade do it yourself products with the same or similar ingredients work just as well and costs only pennies to make.

Image credit: DepositPhotos.com

Last article update: 8/20/2019