In one of our articles, we have covered the basics of hair care, now we are going to list great DIY hair care masks that are proven to work wonders for hair during the warm season.
If you have never tried any of homemade natural hair care treatments now would be the perfect time to start.
If we try to find reasons why many opt for natural products instead of using branded ones, we don't need to dig deep. Apart from the fact that these homemade hair care masks are made of natural ingredients, and deprived of any harmful chemicals, one is also free to use ingredients freely according to his or her preferences.
Another important benefit of homemade products is that they are usually less expensive than the ones we buy at the store or salon. The best is that most of the ingredients we can in fact find in our kitchen.
The causes behind damaged hair are numerous: prolonged exposure to the sun, bleaching, coloring, over brushing, applying direct heat on the hair (hairdryers, straightening curling tools), over-shampooing, cosmetic products and more.
Applying some simple rules you will learn how to protect your hair, moreover, using natural hair care masks and treatments, you will easily bring your hair to life.
Using natural ingredients that are packed with essential minerals and vitamins you can return healthy hair texture in no time.
The List of the Best Natural Treatments for Dry and Damaged Hair
Below is the list of some of the best natural treatments for dry and damaged hair.
1. Avocado and Banana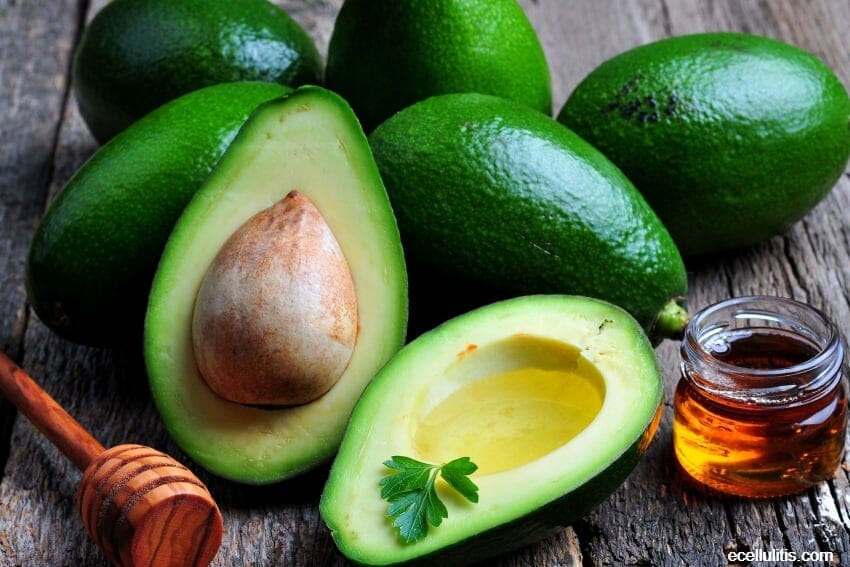 Avocados are perfect for dry, brittle hair as they contain moisturizing properties that are able to revitalize dull lifeless hair. Avocado is also excellent for hair growth.
You will need:
Banana
Avocado
Eggs
Honey
Extra virgin olive oil
Peel and cut the avocado into half (use one full avocado depending on the length of your hair) and make a paste. Take half a banana, add about 2 tablespoons of olive oil, mix it well, and add to avocado paste, mixing it again. Add an egg, and mix the mixture in a blender until it is soft.
To apply the mixture make sure your hair is dry; apply the mixture from the top section of your hair, and do not apply the mixture on your scalp. Concentrate mainly on the hair tips that are damaged or more likely to be damaged. Leave the mixture for about 10 minutes and rinse off with water.
Due to the characteristics of the ingredients, this mask will make your hair shiny and soft, especially because of olive oil. Olive oil gives additional shine, and honey adds sheen to the hair as well, and it can be used to lighten the hair.
Olive oil penetrates the hair much better than other oils, and even using only olive oil to massage scalp will do wonders to the hair.
2. Avocado and Milk
You will need:
Avocado
Extra virgin olive oil or almond oil
Milk
Opt for very ripe avocado; mash it and blend very finely until you get a very smooth puree. Add ½ cup of milk, and a tablespoon of either olive or almond oil and mix very well.
Apply the mixture to hair starting from hair roots till the tips of the hair.  Leave it for 15 minutes, and rinse it with warm water.
3. Banana and Coconut oil
Bananas are rich in potassium, antioxidants, and vitamins, and contain natural oils and moisture. In particular, there is vitamin A that strengthen hair follicles and nourish dry hair, vitamin E that promotes a healthy scalp, and vitamin C for the hair oil regulation.
Mask made of bananas is great for moisturizing properties, strengthening hair and preventing breakage and split ends. With bananas, your hair will maintain natural hair elasticity.
You will need:
Banana
Honey
Olive oil
Coconut oil
Blend two ripe bananas until there are no banana pieces. Add a tablespoon of honey, a tablespoon of olive oil and a tablespoon of coconut oil to the mixture and blend again.
Apply the mixture into your scalp and lengths of your hair and leave it for about 5 minutes. Rinse thoroughly with warm water. Take time to comb off the hair removing any pieces. You do not need any organic shampoo because bananas smell so good.
When making the conditioner make sure bananas are over-ripened, for easy blending.
4. Banana and Milk
You will need:
Banana
Egg
Honey
Milk
Olive oil
Mix one banana, one egg, three tablespoons of honey and three tablespoons of milk. Add five tablespoons of olive oil, and stir until you get a smooth paste. Apply on your hair from top to bottom, leave it for 15 to 30 minutes, and then rinse it off.
Milk has unique natural fats, protein, vitamins and minerals that can strengthen and fortify hair cells.
5. Eggs and Milk
Eggs are very important for the hair. They are packed with various nutrients, and they are known for their rich source of protein, and protein nourishes the hair roots and promote hair growth. Fatty acids from eggs will give your hair a glossy shine, potassium will prevent hair damaging, vitamin D will prevent hair loss and vitamin B12 promotes hair growth. All the nutrients together with calcium will give your hair a soft feel and lustrous shine.
You will need:
Use one egg (or two, depending on your hair length), separate the egg white and egg yolk, and beat the separated egg yolks (use egg whites for oily greasy hair and egg yolks for dry brittle hair). Add one cup of milk and two tablespoons of olive oil and mix it well. Add a squeeze of lemon, and mix the mixture with an egg beater.
Apply the mixture on the scalp, and massage it well into it, then apply to the hair ends. Let it sit for at least 15 minutes. Rinse it well with either lukewarm or cold water (preferably cold), and use an organic fruit shampoo for the final touch.
Be careful with lemon juice, it may give you a burning sensation on your scalp.
6. Vinegar and Egg
You will need:
Eggs
Olive oil
Honey
Vinegar
Lemon juice
Take 2 to 3 egg yolks and whisk it thoroughly; add about 4oz of vinegar, about 5oz of lemon juice and mix it. Then add about 8oz of olive oil and 2 to 3 tablespoons of honey. Mix it well with a blender until you get thick and whipped paste.
Apply the conditioner on hair tips and leave it for about 10 to 15 minutes. Rinse it off with water.
Eggs give additional shine to the hair, and vinegar is good for treating hair loss.
7. Yogurt and Honey
You will need:
Yogurt
Honey
Apple cider vinegar
Mix a half cup of yogurt (or less depending of your hair volume and length) with a teaspoon of apple cider vinegar and a teaspoon of honey in a bowl.
Apply the mixture to the scalp, working from the roots to the ends. Leave it for at least 15 minutes and rinse it with warm water. Wash it again with organic fruit shampoo to get rid of the smell of yogurt.
Use only probiotic natural yogurt or use the one you can make at home. If you prefer, you can buy yogurt in paste form. Be careful with apple cider vinegar because it can give a burning sensation on your scalp.
Yogurt is packed with antioxidants, vitamins, protein and calcium. It has great moisturizing properties that can help control oily, greasy hair by washing away excess oil.
8. Strawberries and Coconut Oil
Strawberries are mostly used for very oily and greasy hair because they are loaded with vitamin C which has great nourishing qualities. They are great for scalp oil control; they help rinse off excess build-ups and regulate the scalp's natural pH. With vitamin C from strawberries, the hair gets a glossy and shiny look.
Coconut oil will help with lubrication of the hair. Coconut oil contains magnesium, potassium, calcium and iron, all necessary minerals for healthy hair. The main benefit of coconut oil is its ability to strengthen the hair.
You will need:
Strawberries
Honey
Coconut oil
Use a handful of fresh strawberries (seven for medium long hair), a tablespoon of coconut oil and a tablespoon of honey and blend it to form a puree.
Apply the mixture to damp hair, working from roots to tips of the hair. Rinse it with warm water.
In addition, learn more about the best hair oils you can use to strengthen your hair.
For beautiful and healthy hair you need time and patience. Using natural ingredients for hair care is necessary if you wish to maintain healthy hair. With these treatments, you will give your hair all that it needs.

Images credit: 123RF Photo Stock

Last article update: 8/15/2019