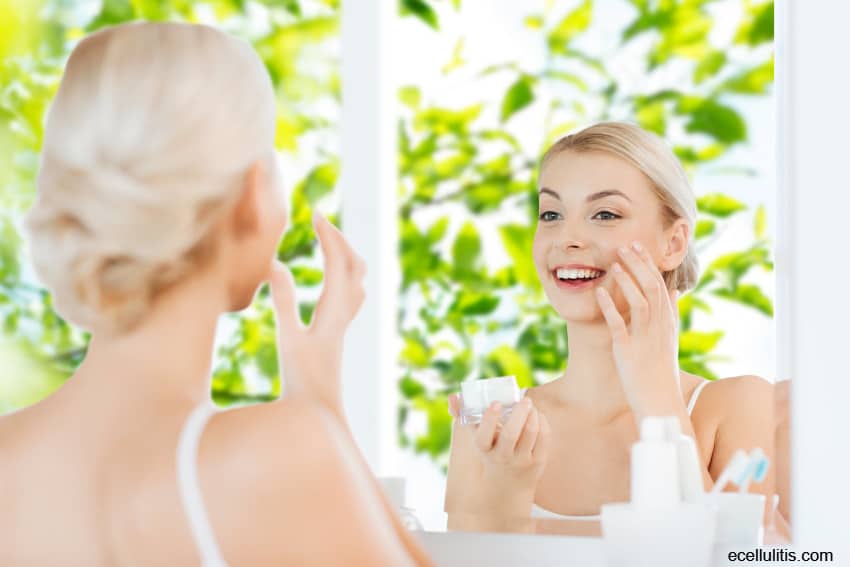 There are five basic steps to keep your skin healthy, and it only takes five minutes to complete them all. Following a five-minute regimen twice each day is hardly a drastic change in your lifestyle. Making it a part of your daily routine will give your skin a healthy glow, reduce blemishes and postpone signs of aging.
Cleansing
Use a cosmetic cleanser to wash your face. Soap is a drying agent and far too harsh for your face and neck. Used properly, a facial cleanser removes makeup and soil without drying delicate skin. Spend a few moments to let the product dissolve any residual makeup, and use plenty of warm water to rinse.
Remember that your neck deserves the same treatment you give to your face. This skin is also delicate and needs special care to maintain a youthful appearance.
Toning
A toner is an integral part of your daily regime. It removes residual cleanser, minimizes pores and restores the skin's PH balance. Use an alcohol-free toner that is formulated for your skin type.
Read this – How To Make Natural Skin Toner According To Your Skin Type
Moisturizing
A moisturizer hydrates the skin and keeps it supple. Every skin type needs hydration, and moisture should not be confused with oil. There are moisturizing products made for problem skin types that are oil-free and may contain acne medication.
If your skin is sensitive, avoid products containing lanolin. This ingredient tends to clog pores, and even dry skin may develop blemishes.
The skin around the eyes does not produce oil. It is very delicate and tends to be dry. Use a product made specifically for the eye area to protect this very sensitive and fragile skin.
Exfoliation
Every day our skin cells die and are replaced with new ones. Some of the cells flake off, but they tend to build up and cause clogged pores. Regardless of the type, the skin should be exfoliated regularly to maintain a fresh and clear appearance.
Exfoliation exposes new cells and makes the skin more receptive to moisturizer. It also increases circulation and promotes the growth of new cells.
Abrasive cleaning pads, cosmetic scrubs or natural homemade recipes all work fine. The main thing is to use them regularly. Make sure to tone and moisturize the following exfoliation to close the pores and hydrate your skin.
Protection
The sun's UV rays are the silent enemies of your skin. You may remember to use sunscreen in the summer, but your skin is exposed to UV rays anytime you are outside.
The easiest way to get the UV protection you need is to use moisturizers and foundation makeup that includes sunscreen. That way, you don't have to remember to take that extra step for protection. It's built into your daily regimen and is one less thing you need to remember. There are oil-free sunscreens available for problem skin, as well as formulations made specifically for facial use.
Five little steps that take only ten brief minutes out of your busy day is not a big sacrifice. The rewards are a bright, clean and fresh complexion that is protected against sun damage and aging. That's a big incentive for a little effort.

Image credit: 123rf.com & DepositPhotos.com

Last article update: 4/23/2019