How can you have shiny and healthy hair? Surely, we all want it, but how do we get the desirable results? Before we look at some of the most efficient hair oils, let us first emphasize some of the problems we also encounter.
About Hair Health
Beneficial nutrients from various foods are extremely important for our optimal health, which means they are also very important for our hair. All the necessary vitamins (especially vitamin E, A, and C) and minerals we can receive from fresh and raw fruits and vegetables. Everybody should keep in mind that good and regular nutrition can help us have the hair we desire.


On the other hand, the way your hair looks also depends on the cosmetic products you use (synthetic shampoos, conditioners, gels, etc.). We need to choose carefully what we use for our hair. Some of the products contain synthetic materials that can damage our hair seriously (dandruff and other scalp problems, hair thickness, and hair loss). Be very cautious with cosmetic products.
It is important to mention that the things we do (using a hairdryer, swimming in chlorinated pools, etc.) also affect our hair.
When talking about healthy hair it is also important to consider the quality of our shower water. There are substances in water that can be very harmful to our hair, such as fluoride, chlorine, iron oxides, and others.
What is good for our body is also good for our hair, thus peaceful sleep for no less than eight hours is mandatory.
Last of the things one must consider is daily stress. Stress can endanger our immune system in general and have serious consequences on the hair.
Now, let us look at various fabulous hair oils that can do miracles.
Essential Oils for Normal Hair
These oils are for hair that is neither greasy nor dry.
Lavender Essential Oil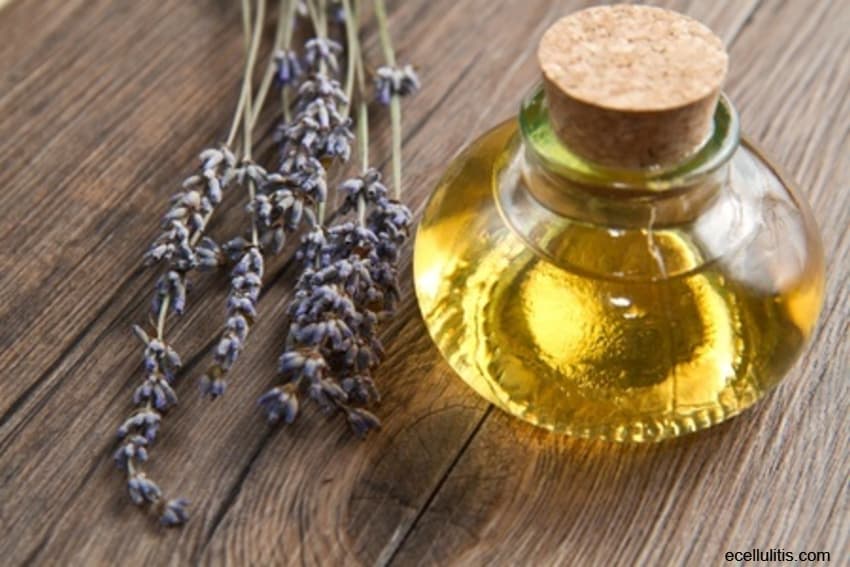 Lavender is a famous plant used in aromatherapy for centuries. Moreover, it has been used as a remedy for infections and inflammations. The plant has endless benefits for our organism; it has antiseptic, anti-inflammatory, antifungal, and anti-spasmodic properties. Medical practitioners use it for insomnia, burns, nervous tension, respiratory infections, cholesterol reduction, skin conditions, and hair loss.
The lavender fragrance is very relaxing and calming to both body and mind. One can make homemade lavender oil easily or use some existing oils. When treating hair, massage is the best option.
As for the safety precautions, lavender is safe, but one must be cautious of the hybrids (usually Lavandin) and other similar species.
Rosemary Essential Oil
Rosemary plant, a love charm, is loaded with essential vitamins (Vitamin C, vitamin D and B – complex vitamins). Due to rosmarinic acid, it has great antioxidant and anti-inflammatory properties. Rosemary oil is distilled from the leaves of the herb, and it has a minty aroma.
Until today, rosemary oil has a reputation for stimulating hair growth and preventing baldness. This oil stimulates cell division and dilates blood vessels, which in turn, stimulates hair follicles into producing new hair. People usually use it as a hair rinse, but one can also add it to shampoos and hair conditioners. For hair growth, you can also rub it into the scalp.
Rosemary oil is great for mixing with other oils, such as lemon essential oil, tea tree essential oil or geranium essential oil.
Caution – do not use it if you have epilepsy, high blood pressure or during pregnancy. Apart from that, rosemary essential oil is non- toxic and safe.
Cedar Wood Essential Oil
Cedarwood oil is extracted from wood chips and sawdust of the cedar wood tree and it has light yellow to orange color. Two types of trees are used to obtain this essential oil; one is known as a true cedar, evergreen tree Cedrus Atlantica, and the other is known as red cedar, Juniperus virginiana.
In ancient times, Lebanon cedar was used to extract essential oils.
Its history of usage is impressive; Egyptian used it for embalming the dead bodies, Sumerian used it for paint, but they also used it as a remedy for urinary tract and respiratory tract infections. In Tibet, cedar essential oil is part of traditional medicine.
Today it is popular as bug repellent, sedative, and as an ingredient in herbal antiseptic creams. It is also used in aromatherapy.
Cedarwood essential oil has a woody and spicy aroma and is relaxing for body and mind. As a natural antiseptic, when used for hair, it can stop hair loss and premature graying of hair. It is very helpful for dandruff and psoriasis.
Cedarwood essential oil normalizes dry and oily scalp.
Thyme Essential Oil
Thymus vulgaris, a little shrub with pink flowers, is a fragrant herb we use in cooking. Essential oil is extracted by steam distillation from aerial parts of the plant. Oil has strong antiseptic, antispasmodic, diuretic, balsamic, and stimulant properties. People use for asthma, rheumatism, urinary infections, digestive problems, cold, and flu.
When used for hair, thyme essential oil is a great hair tonic. Regular massage with this oil improves blood circulation in the scalp, therefore promotes new hair growth.
It is usually mixed with jojoba and rosemary oil.
Clary Sage Essential Oil
Clary sage essential oil is a great stress and tension reliever, thus it is widely used in aromatherapy.
Oil is obtained from the leaves and buds of the Clary sage plant (Salvia Sclarea). It is popular as an eye cleanser, and as a remedy that can prevent vision loss due to the age.
With its sweet scent, this oil boosts hair growth – it speeds up hair growth, prevent premature balding, strengthen hair for better manageability, and it is also great for dandruff.
For dandruff, mix 5 drops of lemon oil, 3 tablespoons of Clary sage oil, and 3 tablespoons of mandarin oil. Warm it on low heat, massage into scalp, and wrap in a hot towel for 20 minutes. Wash the hair properly and enjoy the benefits.
Clary sage oil also blends well with jasmine, chamomile, ylang-ylang, and coconuts essential oils.
You can continue with reading about Best Hair Oils – How to Treat Your Hair Properly – Part II by clicking HERE!

Images credit: 123RF Stock Photo

Last article update: 8/5/2019