"Christmas, children, is not a date. It is a state of mind." – Mary Ellen Chase
Every year we rethink our Christmas tradition, trying to make it different, better and merrier. However, it can be for many people, stressful and consumer-driven time. Furthermore, every year I get to meet people who think of this family holiday as the most stressful holiday.
It doesn't have to be that way if you change your attitude and perspective. This is the reason I decided to write about those "little" things regarding our behavior, or consumer-driven traditions we should change to make this holiday the best we can.
Relax. Take a deep breath. Enjoy.
"Happiness is like a kiss. You must share it to enjoy it." – Bernard Meltzer
Whether Christmas is a religious holiday for you or not, Christmas is most certainly about family and friends. Understand that you can give yourself permission to slow down, to say NO to many commitments you have and focus on what's the most important for you.
Therefore, think about it. What's the most important thing for you? Is it buying expensive gifts? Or preparing a luxurious dinner? Or, above all, is it spending time with the people you love, reflecting on the past year and planning the future?
Make gifts or purchase handcraft gifts and support a good cause.
"The aim of art is to represent not the outward appearance of things, but their inward significance." – Aristotle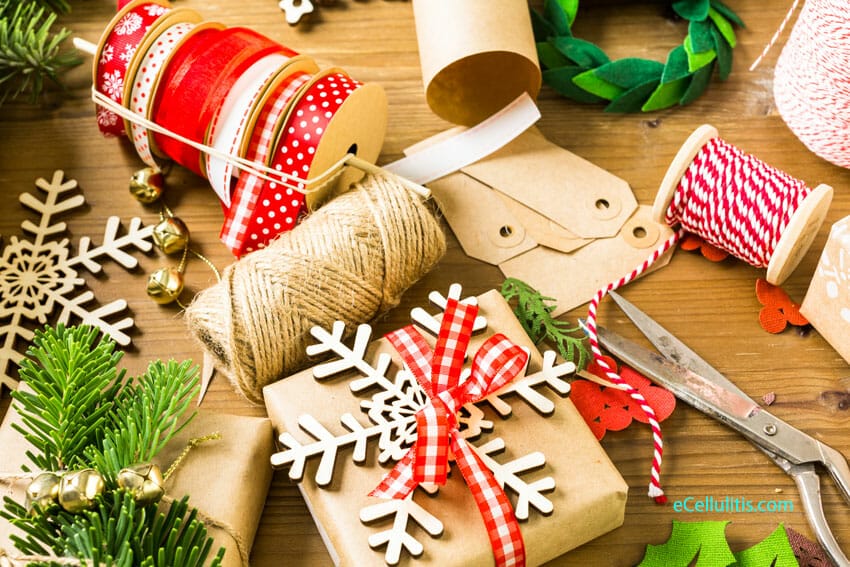 Is there anything more entertaining than spending time with your children or friends making gifts? You might think you need some special artistic skills, but the truth is that there are many possibilities for everyone, for example, papercraft, woodwork, writing a short story or a poem, knitting, creating a photo album, or collage, anything that you think of. Simply, use the skills you have and create something for a person you love!
It's easier to shop online, or in your local store, there is no doubt about it. If you, however, want to purchase gifts, you can always choose to support a good cause or an organization that aims to increase awareness about certain social or cultural problems.
Handcrafted items are unique, which make them a perfect gift; moreover, purchasing these items you also support artists and their craft. Support a charity, local environmental organization or a small business, and make it a Christmas tradition.
Overall, try not to buy "stuff and things" that will end up in the yard sale in July. If you need more ideas for gifts, take a look at these 5 healthy DIY options.
Make it fun and enjoy simple pleasures.
"It isn't the great big pleasure that counts the most; it's making a great deal out of the little ones." – Jean Webster
Don't get caught in holiday panic! The more organized you are, the better it will be. However, even if you end up with less cookies or desserts than you planned, or with the "wrong" present, set aside all unfinished things, and enjoy the day in a simple, old-fashioned way.
Popcorns and a book of short stories, what's wrong with that? Play games with your kids, search for the star in the East, or go outside and leave a trail of snow angles. Whatever you do, make it memorable and fun; take a reprieve from stress and worries. Revel in the sounds of bells and allow the spirit of the holiday to drive away your worries.
Christmas is, in the first place, an ideal holiday to have some quality family time, so have fun with your family while decorating your home.
Think healthy food for holidays and shop smart.
"A man too busy to take care of his health is like a mechanic too busy to take care of his tools." – Spanish Proverb
When holidays begin, it's very important to think about healthy food.  If you already have ways of including healthy food in your diet, the holiday menu won't be a problem for you.
However, many are welcoming holidays as a chance to taste and enjoy delicious high-calorie food, which very often results in overindulging and overeating. "I can let myself enjoy one day a year", many would say, and while this is true, many are also not aware of the damage overeating can do.
Christmas is a perfect holiday for you to experiment with new recipes, foreign cuisine, or to start including new healthy alternatives in your everyday cooking. So, why don't you try it?
Here are a few tips on how you can make good choices:
Spend a little time planning your menu. In a word, shop smart, include plenty of fruits and vegetables and opt for lean meats, whole grains and low-fat dairy. Choose food rich in nutrients, but lower in sugar and fat. Go easy with nuts, cream sauces, butter, and cheese.
Go with frozen food. Fresh is the best, however, when prices are high, you can choose frozen food, because frozen fruits and vegetables are less expensive and usually more nutritious if they are picked in their peak ripeness. Canned food could be a healthy option as well, however, with canned food you need to carefully read labels and search for products with less added sodium or sugar.
Opt for healthier desserts. When I was a child, Christmas was a dessert holiday for me. However, dessert are very often sneaky sugars. So, what is a healthier dessert? Think chocolate dipped strawberries, for instance. Read 50 tips on how to prepare delicious food if you need more information.
Help others and volunteer.
"If you become a helper of hearts, springs of wisdom will flow from your heart." – Rumi
Christmas as a holiday creates a community spirit. The best thing one can pass on to future generations is when doing something meaningful, something worth passing on, something that brings new meaning to the community, to the city you live in, to the world.
Consider volunteering or helping people who have a difficult time, and be the best role model for your children and people around you.

Is there something you are going to change this Christmas?

Images by DepositPhotos.com

Last article update: 12/02/2019