Different factors contribute to feeling pain and experience sore feet, and the most common are:
Increased walking and standing usually on hard surfaces, such as concrete
Obesity is probably amongst the most common causes of aching feet – overweight increases strain on ligaments, joints and muscles
Foot common abnormalities, such as flat feet, arthritis or joint restriction
Hormones in pregnancy cause ligaments to relax, and together with increased weight, aching feet are a common result
Unfitting shoes or shoes with overly flexible soles can cause serious problems and foot pain
Remedies from our kitchen
We have all experienced aching feet, most of us probably after a long working day; however, do you know which home remedies are great to help for sore and aching feet? Usually, most of those remedies we have in our kitchen, so, apart from resting your legs to reduce the pain, these remedies can help rejuvenate your tired feet and alleviate the pain.
Vinegar
Reduces inflammation, and it is good to soothe sprains, strains and foot aches. Usually, the best vinegar treatment considers hot and cold wraps – use two containers, mix equal amounts of both water and vinegar in containers. First, heat water and vinegar, soak a towel, squeeze out the excess liquid and wrap it around your foot. Leave it this way for five minutes, and then repeat the same treatment with the cold mixture.
The best results are if you repeat this treatment there four times a day.
Carbonated water
Can be very refreshing for feet treatments, and it is very beneficial when you want to soothe the tiredness. Soak your feet in carbonated water for 5 to 10 minutes.
Epsom salts
Well-known remedy for tired feet – put two tablespoons of salts in warm water, and soak for 15 minutes. Remember to moisturize your feet afterward because Epsom salts can be drying.
Flour
Can heal strain or sprain – make a paste with flour, wine and gardenia and apply on your feet.
Cayenne pepper
Excellent for cold feet and pains, aches and arthritis, even muscle strain. Add one-half teaspoon of cayenne pepper powder to hot water (half bucket) and soak your feet in the water for a few minutes. This will give you a soothing effect and relieve the pain.
Ice
Reduce inflammation, pain and swellings. Place a bag of ice in a thin towel, or a small plastic bag, and use it to massage the foot. A bag of frozen vegetables is also a good option. Ice can damage nerves and skin, so do not use it more than 10 minutes.
Asparagus
They are good for swollen feet because it is a natural diuretic. Steam fresh asparagus and eat it.
Mustard seeds
Can treat foot pain by removing toxic water, improving circulation and reducing inflammation.
Grind mustard seeds, add to a half a bucket of warm water and soak your feet for 10 to 15 minutes.
Cinnamon
Cinnamon is good for cold feet and poor circulation. Heat a glass of water, stir in a gram of powdered cinnamon into it and steep for 15 minutes.
Drink it three times a day.
Sage
Excellent for foot pain. Rub a handful of sage leaves in your palm, place them in a saucepan with 2/3 cup of cider vinegar, and simmer for five minutes. Soak a cotton cloth in the solution and hold it on your feet. Repeat the process several times.
Sage can also reduce foot odor.
Refreshing and rejuvenating footbaths
The most beneficial treatment for the feet, in particular for relaxing sore muscles, is a footbath. Pain and aching is sometimes the result of overstressed muscles and connective tissue, thus going for alternative "hydro-massage" is a good choice.
The most common footbath is with plain hot and cold water. However, essential oils, such as peppermint, eucalyptus or rosemary, are bringing additional benefits. Adding two drops of peppermint oil, four drops of eucalyptus and rosemary oil, and soaking your feet for 10 minutes will relieve the pain, improve circulation, and refresh and rejuvenate your feet.
Ginger footbath will rejuvenate your entire body. Mix two tablespoons of powdered ginger, a pinch or two of sea salt and 2 quarters of water, and bring it to boil. Let it cool a bit before you pour it into a basin or tub, and soak your feet for 10 to 20 minutes.
Massage as a powerful treatment for tired feet
Foot massage improves circulation, stimulates muscles, and reduces pain and tension. With a massage roller designed specifically for the feet you will be able to do it yourself (alternative ways are to use a tennis or golf ball and roll your bare feet over it for several minutes).
To do a massage you should sit in a comfortable chair, bending your left leg and resting your left foot on your right thigh.
Use some skin lotion or oil and pour it gently onto your foot, and massage toes, arch, and heel, that is your whole foot.
To do a deeper massage, press the knuckles of your right hand into your left foot and knead your foot. Moreover, you can also press your thumbs into the skin, holding a foot with both hands.
Pull the toes back and forth or apart with your hands.
Finally, repeat the same treatment on the other foot.
You can also use stimulating massage oils to soothe the pain – combine 3 drops of clove oil with 3 tablespoons of sesame oil and massage into your feet.
Another rejuvenating foot rub is a mixture of 3 drops of lavender oil, one drop of chamomile oil, one drop of geranium oil and 2 tablespoons of olive oil.
Workout for tired feet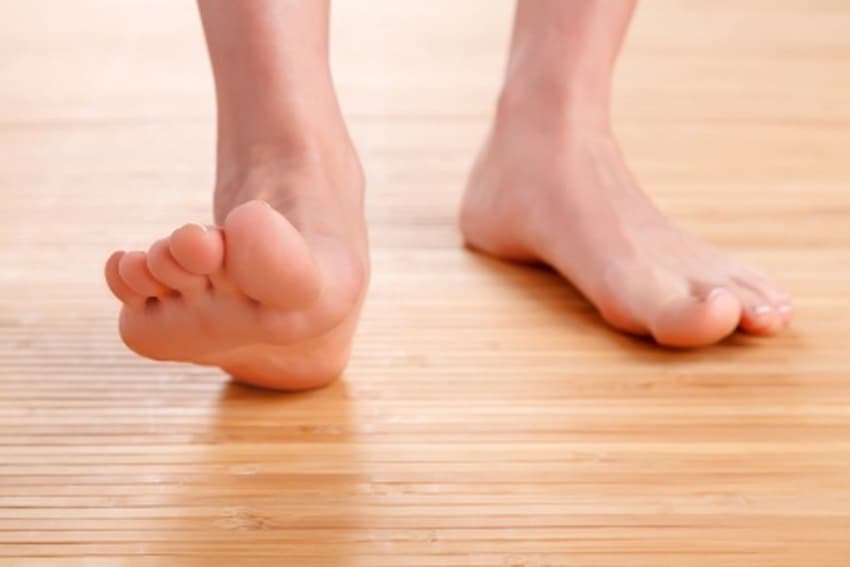 Pick scattered pencils on the floor with your toes – this will help you relieve the pain.
Wrap a thick rubber band around all the toes and spread them holding the stretch for five seconds (repeat it a few times) – this will relieve aching and increase circulation.

Remember: Do not ignore foot pain or tired legs; pain in feet could be a symptom of more serious illnesses.

Additional source:
Rose, J.D. & Martorana, V.J. (2011). The Foot Book: A Complete Guide to Healthy Feet. A Johns Hopkins Press Health Book.

Images by DepositPhotos.com

Last article update: 8/4/2019